Combustion Chamber
Since 2004, Polaris has been developing and manufacturing different types of combustion chambers, such as annular and tubular using direct or reverse flux.

Engine Hot Parts
(gas generator and free turbine disk)
In a partnership with a national company, Polaris is able to manufacture high quality engine hot parts such as stators, blisks and engine case. In addition, a hollow blade model for better cooling is currently being developed and tested, representing great advance in acheivng higher efficiency, specially in higher power engines.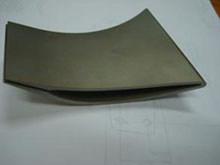 Polaris hollow blade for stator cooling

FADEC
Previous models have been tested in TR3500 engine, what gave confidence and experience to design an even better model to be used in TJ1000 jet engine.

Special Thermocouples
Polaris developed and manufactured special thermocouples used in TVRD1000, TVSE1000 and TR3500 engines for measuring stagnition temperatures up to 1270°C. In a further step, the certification of those thermocouples will be acheived.

High Performance Radial Compressor
Having successfully developed several radial compressor models, Polaris proved experience permitted the current development of a new high performance radial compressor with 8.6:1 comrpession rate.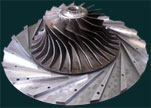 Manufacturing of Centrifugal Compressor Rotor